YOGA THERAPY
By combining the beneficial physical and mental health aspects of a personalized Yoga Therapy practice, many have found improved overall health and mental wellbeing.
Working together, we will develop an individual healing program that can improve your life and increase your self mastery that will lead to self discovery!
The peer reviewed research and studies are in and they show Yoga Therapy can be a powerful healing tool in combination with your current health practices.
YOGA THERAPY
MILITARY & FIRST RESPONDERS
The occupational hazards and traumas experienced during some professions and lifestyles require trained professionals to help you develop new skill sets to move forward.
Many have sought out Yoga Therapy for help. The United States Military uses Yoga Therapy at many Veterans administration as a tool in overcoming obstacles.
Learn the skills to grow past your experiences and onto a better more fulfilling life.
MILITARY & FIRST RESPONDERS
RETREATS
Take a break from it all and join us on Retreat!
Retreats are the perfect opportunity to unwind, learn new skills and develop a healthy daily routine and practice.
Don't worry, Warrior Monk Yoga Retreats are not some sort of get fit boot camp, rather they are an opportunity to reconnect with yourself without the distractions of daily life.
Everyone needs a break, combined with new experiences, this break will facilitate growth and healing.
RETREATS
ABOUT
Warrior Monk Yoga was founded in response to the growing need for yoga, mediation and mindfulness for first responders, military, mountain guides, executives and people that fit outside the norm of the perceived typical yogi who are looking for tools and techniques to help offset challenges in their lives.
For many whose career puts them in highly stressful or dangerous situations, yoga can be an excellent model for healing and support. Without a strong skill set, the difficulties associated with a demanding career can become overwhelming.
For too long, people have been left alone with their challenges to heal themselves; Warrior Monk Yoga offers many answers.
By combining yoga, meditation and mindfulness with the unique energy of the outdoors, Warrior Monk Yoga offers the opportunity to begin your process.
Learn, grow and move forward on your own terms, knowing that the techniques and tools you will learn work and have been proven effective in combating many of life's difficulties.
Join us for a class, series or retreat where you will learn more about your true self, healing and moving forward.
-JS
---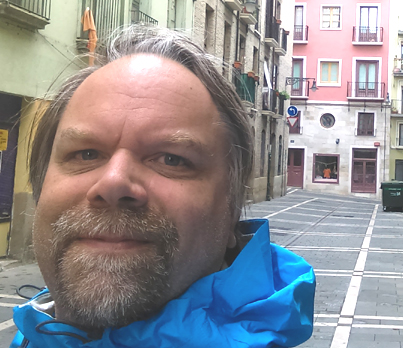 Our Founder
John Sarbo
My teaching and Yoga Therapy practice has focused on Aging populations, the Military and First Responders. Based on the ancient healing of Yoga's Eight Fold Path and on my observations of what works for people while also keeping an open mind to help a student find their way back home, this teaching practice has helped many. I meet my students where they are at and we go together from there. I am a passionate researcher of Yogic thought and science with a strong belief in the experience of Yoga off the mat.
Learn more about John's journey
" John instructs older adults ranging in age from 60 to 80 plus years old. John is very sensitive to individual needs in his yoga class. He is able to provide instruction to beginner level students to advanced level students…. John pays attention to detail in his instruction and does an excellent job informing participants of their potential and is able to set limits with those who are recovering from physical ailments. "
– J.D.
Center Manager
Liberty Senior Center
It was my pleasure to get to know John Sarbo for the last 8 months, from April of 2014 through Dec 2014, where he taught yoga to our veterans in substance abuse recovery at the Salt Lake City Veterans Hospital. John is very patient, conscientious and client centered. He adapted the yoga class to the individual veteran's needs, both physically and emotionally."
R.W. Salt Lake City Veterans Health Administration
Many of the participating veterans who regularly practice the yoga techniques taught by our instructor John Sarbo, report better sleep, increased flexibility, decreased back hip and knee pain. The way John teaches the yoga techniques allow anyone to participate to their ability level."
J.H. HASLC service coordinator/activities coordinator
Stories & Healing From The Mat
Check out our latest video, stories, and experiences. News & Research