The Camino de Santiago Francis is an ancient pathway traversing Spain for over 500 miles. Our journey will not be quite that long…. Used by the Druids as a way to costal festivals and gatherings, the Camino de Santiago Frances shadows the Milky Way above while following an energetic way line on the earth. Early in the 7th century many types of Pilgrims began making the walk, today some walk for religious duties while others travel for spiritual reasons or fitness.
Our journey follows the last 115k of the Camino Frances from Sairra to Santiago de Compostella and then an additional 25k onto Finesterra, known as "The end of the world" during Roman times… For many, the "Compostella" or certificate that a "Peregrino" or walker can receive is an important part of their Camino. Along the way Peregrino collect stamps in a "Camino Passport" that they share over and over with others. To receive the Compostella and be entered into the ancient list of Peregrino, you must walk the last 100k of the Camino, by walking our tour you can apply for it in Santiago.
The Camino provides you with the unique opportunity to disconnect from and let go of your daily life. The "Way" is a special opportunity to try living in the moment. A journey like the Camino de Santiago may take you out of your comfort zone and challenge you on many levels, that is ok. This is Yoga off the mat, a chance to be present, an opportunity to connect.
Many reasons are often stated as to why do the Camino… The resounding answers seem to be as a path of healing or a spiritual journey, as a way to reconnect with your authentic self, an opportunity to be present as a way to move forward in one's life. Yoga, perfectly stated….
Journey Highlights
Making new friends and lifelong memories
Reconnecting with yourself while establishing a daily Durhana (practice)
Working your way through your Chakras with a restorative Asana (yoga pose practice)
15 optional yoga classes & 8 optional Pranayama (breath work practice)
Learn new techniques for mindfulness based movement
Your "Camino Passport" and the Sellos, "Stamps", as well as the Camino France certificate
Walking 100+ kilometers of the Camino Santiago Frances through dozens of villages and small towns
10 days, 9 nights
We will work our way through our Chakras beginning after dinner on Day 2 by rooting ourselves to the ground and feeling the experiences that are happening by being present. YOU do not need to be a serious yoga practitioner to enjoy this retreat, simply someone interested in connecting with self.
A day in the life of a Yogi on Camino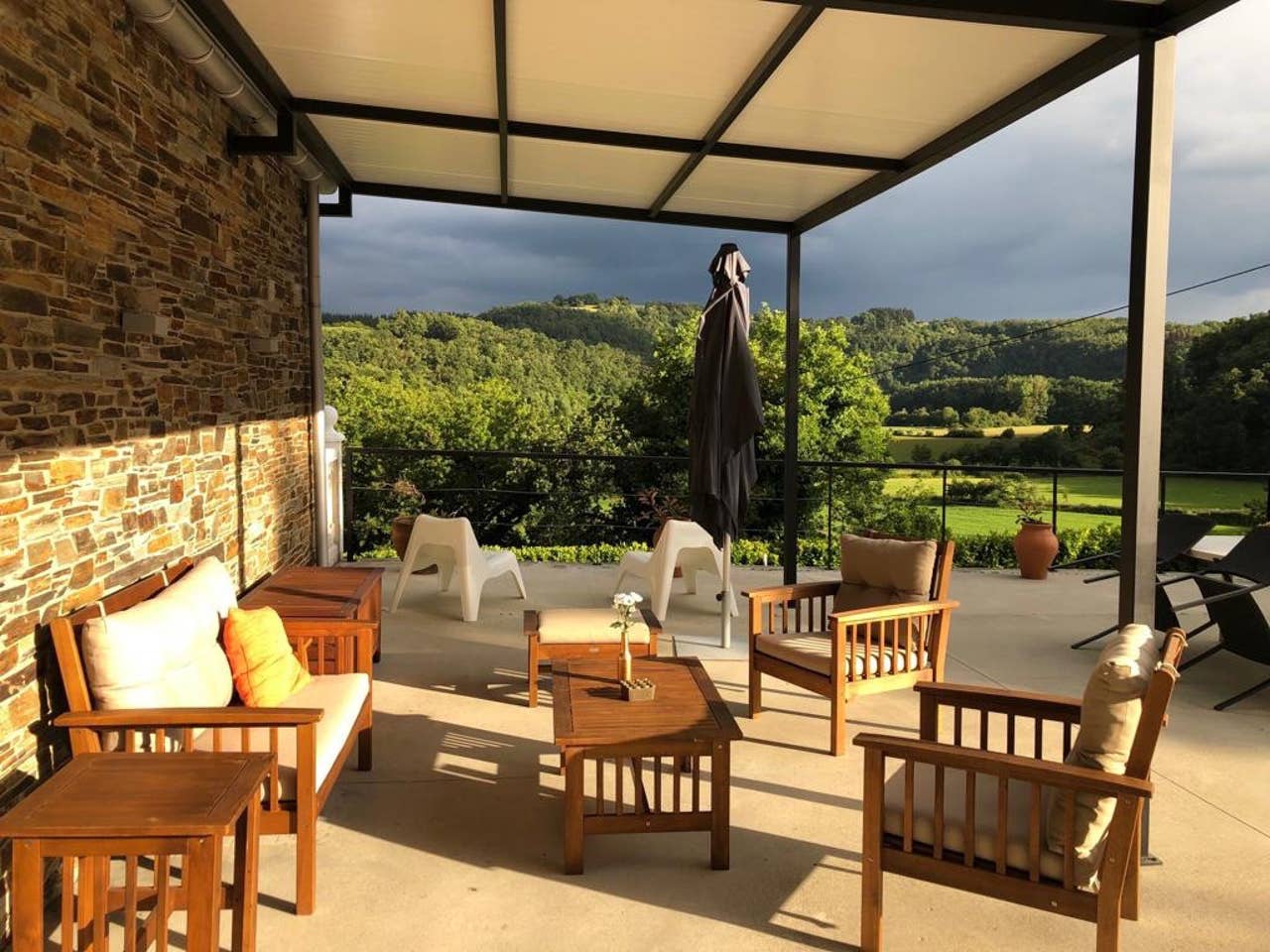 The Camino is about you, although there is a loose schedule, there is a lot of freedom to do your own thing. After breakfast walk with new friends, alone or wander along the way, the options are endless. Maybe wake up early and head out to see the sun rise along the way…. Many a morning have been spent in quiet, walking, watching the sun come up, this time is special and yours alone while traveling the Camino.
Mornings begin with a warm beverage and a Pranayama practice for up to 30 minutes. After a light breakfast there is an optional Restorative / Yin practice for up to 45 minutes before we set off for the day… We will leave our lodging by 8am daily, so if you like to sleep in, no worries, you can skip the daily practice and arrive at breakfast later in the morning. As a daily practice we will begin our 16k – 22k walk with an optional hour of silence as a way to reconnect with ourselves, our breath and the environment.
Our daily Camino seems short due to the many opportunities for scenic rest stops as well as "10 minute yoga breaks" along the way. Travel at your own speed, no, we cannot stop everywhere as a small band, but you can stop anywhere and catch up in a little bit… There are always options for taxis if you want to hang out longer or have an issue during the day.
The Camino experience is an amazing opportunity to practice "Immediate Self Care" by listening to your body and nurturing it daily, honestly, moment by moment. This process reveals itself on Camino as many begin to realize that taking care of yourself is the only way forward.
Arriving at our lodging for the evening, you can shower before dinner. This free time is a great opportunity to set yourself up for the morning, read, journal, clean items or just relax.
After dinner there is an optional Yin / Restore or Yoga Therapy class for those that are interested.
Each Yoga Therapy class offers you a unique opportunity to learn different methods for healing your body… Multiple classes will build on the previous adding to your knowledge of restorative asana, pranayama, mantra, mudhra and mediation techniques focused on your healing as an individual.. There will be class instruction as well as a discussion of techniques and practices.
Finish the night off with storytelling, sharing or just do whatever you want, this is your Camino.
---
Lodging
We have elected to stay a little outside of each of the main town centers. Truthfully the noise, walking traffic, early morning service vehicles and loud old buildings are not advantageous for a solid night's sleep, by sometimes staying a few kilometers away and having the ability to relax and sleep is priceless.
These samples of the lodging we work with along the way, depending on how early we book and final group number will determine the final lodging selection. Book early as these lodgings are small and offer limited rooms.
Meals
Some nights we will eat out, while others we will come together to make a meal and share the experience.
Vegetarian and Vegan lifestyle practitioners will need to be flexible with their diet as Spain's diet is predominantly meat based and it may be difficult to find a wide selection of options, however there will be choices. Gluten free foods are almost impossible to find so please be flexible and understanding while traveling in Spain. When we cook in, this will be much easier.
Lunches along the way are on your own, we can eat as a group if we are all together or form your own Camino Family along the way and dine with them.
---
The Allure of Spain
Spain is an incredible place with generous, welcoming people, where life slows down and is enjoyed in an old country way. It really is a unique experience.
An ancient place, Spain holds many secrets. The energy here is unique, especially the energy along the Camino. With people walking since the 7th Century, the area has seen the millenniums change, yet the people walking are in so many ways still the same…
What is included?
Pre-trip Camino guidance and planning
Pilgrim's passport
Maps of your hotel locations and daily route
Meals, transfers, lodging as indicated on the itinerary
Experienced and qualified Yoga Teacher / guide
Luggage transfer each day from lodging to lodging. You only need to carry a day pack and yoga mat.
9 nights double occupancy in country houses and local hotels – private rooms may be available depending on location for an extra fee.
Receive the Holy Compostela certificate
Well-organized, inspiring day trips to uplifting sites including Bronze Age ruins, Roman remains, cathedrals & holy shrines, museums & exhibits, and natural sites of beauty and inspiration
Chakra guide book and responsible harvested crystals used to activate each Chakra
What is not included?
International transportation to the start of and from the end of the trip (we can help arrange this with you).
Personal purchases, snacks, beverages, meals on your own, travel insurance, medication, taxis, equipment, tips and gratuities.
---
Tier Pricing
4 people or less $2495 per person
5 – 6 people $2350 per person
7-8 people $2100 per person